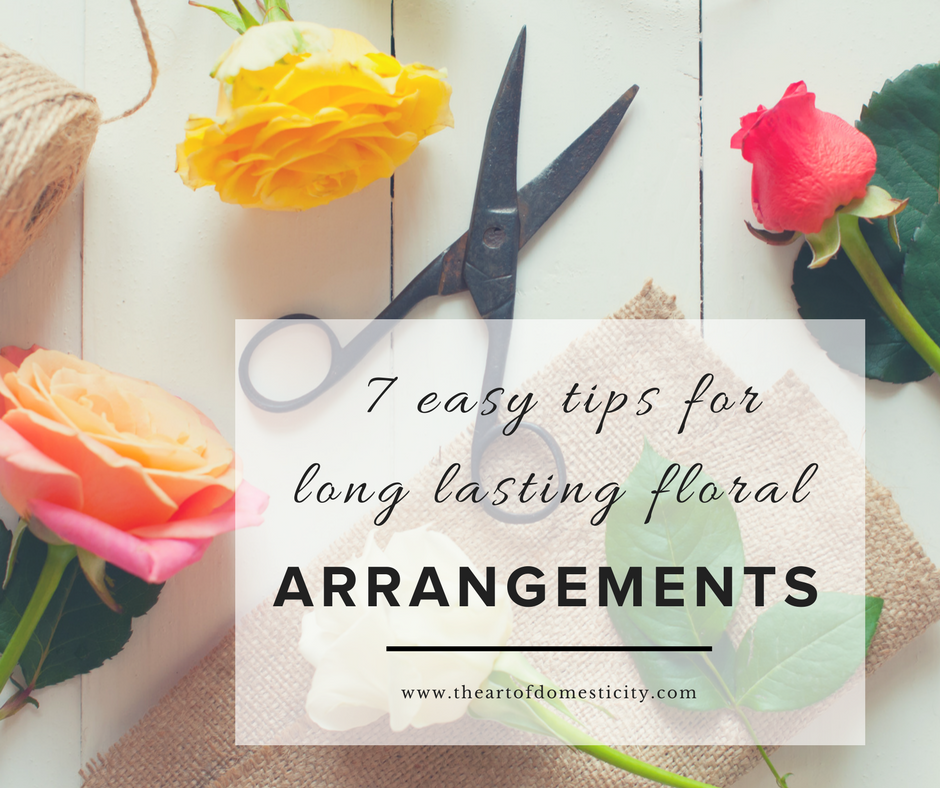 Bouquets are a speedy way to brighten any space in your home. Follow these few basic rules giving your flower arrangements staying power.
1. Keep it Simple.
We all want to be creative and have our favorite flowers, but if you are unsure of your eye for arranging, remember to keep it simple. Try choosing a simple arrangement from your local store if you don't feel comfortable making your own or choose one type of flower. You can never go wrong with a bouquet of tulips, roses, or sunflowers.
2. Put you flowers in water ASAP.
Don't plop your bouquet on the counter and then go off to answer a dozen emails or to-do's. It is important to hydrate your flowers immediately to give them lasting power.
3. Trim your stems.
Stems should always be cut at an angle with a sharp clean pair of clippers. This makes it easier for water to travel up the stem. Here's a good rule of thumb: The vase should be about two-thirds the height of the total arrangement to properly support your flowers. Trim your stems according to the vase. Remember to start around the outside edges of your vase with the shorter flowers and work your way around with the taller stems to give them an even full look.
4. Be creative with your arrangements.
To add extra texture to your floral arrangement, you can add limes, lemons, or cranberries. This is a simple way to spruce up a plain bouquet. You can also utilize other fruits and veggies, such as a carved out pumpkin.
5. Remove the leaves.
Leaves or other foliage shouldn't fall beneath the water line. Leaves create a bacterial build-up that can prevent water from traveling up the stem to hydrate the flowers. Leaves also become slimy.
6. Give your flowers the nutrition that they need.
The packet that comes with the flowers is there for a reason! Feeding your bouquets keeps them alive longer and helps keep the water clean.
7. Don't put your arrangements in direct sunlight.
While you may want your bouquet to live in the brightest spot of your room, it won't last as long in the direct sunlight. The same is true for placing your arrangements too close to a heat or air-conditioning vent. Essentially, it is always a good idea to place your flowers away from extreme hot or cold. If you have an outdoor event, place your arrangements out as late as possible to keep them from wilting.
Flowers are such a simple way to add beauty to any home. I hope these tips help keep yours beautiful!
XOXO,
Sandra Maddox