Surprise your man this Valentine's Day with a special table setting, a delightful meal, champagne and candlelight. Set the tone for romance by celebrating the man you love with this special menu I created to bring 2 people closer together in-love.
Luckily, I adore cooking and consider it my highest art form. I come from a long line of family chefs and am happy to have great cooking skills in my DNA. My father opened a small restaurant that was only open for breakfast to put himself through college. He kept his menu simple and there was always a line out the front door. His restaurant was right across from the High School, and many of his customers were high school students. He would have to rush to clean up and make it to his college classes in time. Some students would cut class to eat breakfast at his restaurant. My Mom was one of those students, and this is how my Father met my Mother.
I find creative cooking a noteworthy talent and skill, and often entertain my friends and loved ones with a unique menu with a modern flair. Over the years, my unique recipes have won some cooking contests and appeared in various magazines. I dream to one day own a stylish and posh restaurant with an eloquent "Tavern at the Inn" style. Ah, the dream of it all.
This Valentine's Day, I find myself enjoying a new romance with David, whose name literally means "beloved". David enjoys my cooking and pampering of him at meal time, and he is always pleasantly surprised with the recipes I whip up for us. I wanted to create a delicious and special meal for us this Valentine's Day. My intention behind the meal was to thank David for his dedication to me and our families. My heart decided quickly on the menu, and the rest was history in the making.
Please enjoy this romantic meal with your Beloved. I suggest eating slowly and truly taking the time to enjoy each other's company, setting the stage for better things to come. David and I set an intention for our romance this year, and we both came up with the word "togetherness". This will be our theme this year and I am sure we will create many new memories and experiences together that match that theme.
Recipes:
Shelly's Stuffed Acorn Squash
Ingredients:
2 small acorn squash, cut in half
1 tbsp coconut oil
1 tbsp olive oil
1 tsp sea salt
1 tsp pepper
1-1/2 cups Knorr chicken flavored rice, prepared according to package directions
1/3 c. dried cranberries
¾ c. steamed broccoli, cut into small pieces
2 tbsp diced cilantro
2 diced green onions
1 turkey patty, skillet fried and chopped into very small pieces
¼ c. chicken stock
Directions:
Preheat oven to 350 degrees. Scoop out the seedy flesh of the squash and rub the inside generously with coconut oil. Prepare a cookie sheet with lined parchment paper. Put squash with the cut side down and drizzle with olive oil and salt and pepper on the outer skin. Cook 50 minutes. When removing from the oven, gently take a fork and fluff the squash gently to loosen. Use your fork to push the squash to the side, creating an opening in the middle where the filling will go.
Prepare the Knorr chicken flavored rice as directed on the package, using 1-1/2 cups for the filling. Save the rest for another day.
Steam the broccoli about 13 minutes in the steamer and slice into small pieces.
Fry the turkey patty in a small skillet until golden. Cut into very small pieces.
Add to the cooked rice a small amount of chicken stock. Add the cilantro and green onions and sauté a couple of minutes, then add into the mixture the cooked broccoli, diced cooked turkey, and dried cranberries.
Place rice mixture gently into the acorn squash. Then, it is ready to serve.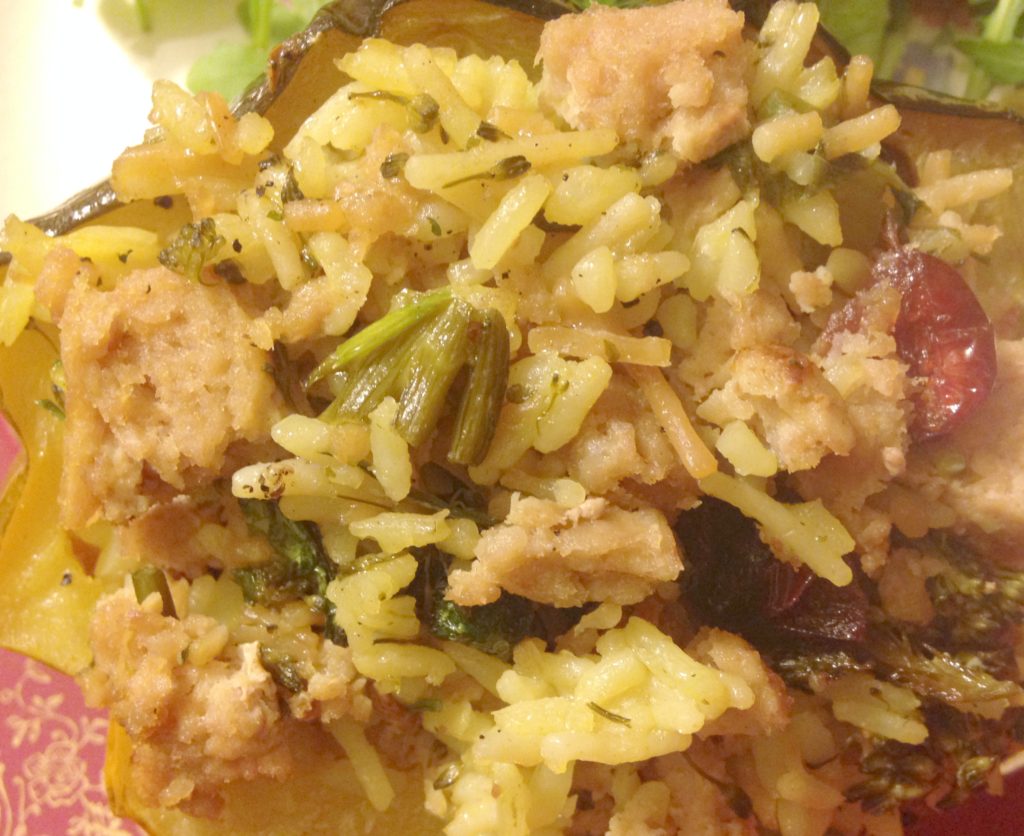 Arugula Salad
On a plate next to the squash, prepare this simple salad. Use about ½ c. arugula on each plate topped with chopped marinated artichoke hearts and drizzle with Trader Joe's Champagne Pear Vinaigrette Dressing.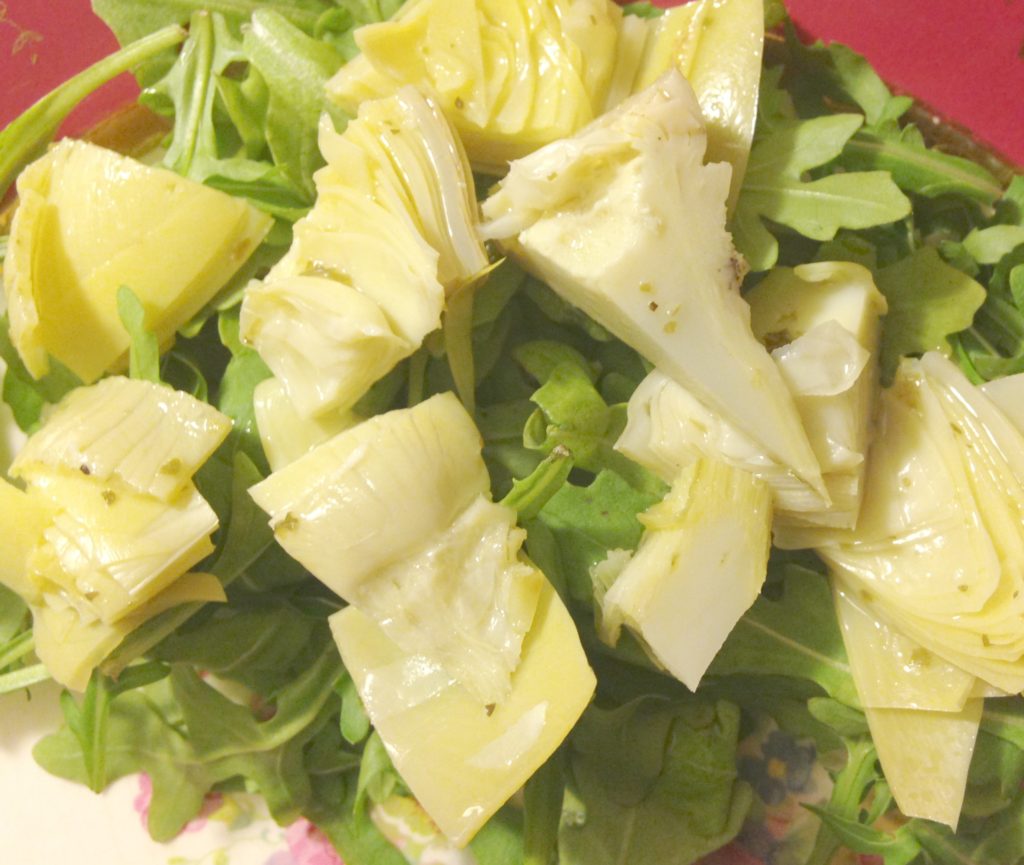 Chocolate Lava Soufflé for 2
Ladies, I have become a big fan of mug cake recipes. There are so many delicious desserts that can be prepared in a mug using a microwave in under 10 minutes. This chocolate soufflé is light and decadent. The molten part of the cake is rich and the cake batter is made from scratch. This recipe is sure to please and goes well with brut champagne. I used a soufflé dish and topped this beautiful creation with a dusting of powdered sugar.
Please see the full recipe here: http://cleobuttera.com/cakes/molten-chocolate-mug-cake/
Blessings for True Love,
Shelly Byrd