Valentine's Day is quickly approaching. Are you wanting to throw a Valentine's Soiree but lack the space in your home or apartment?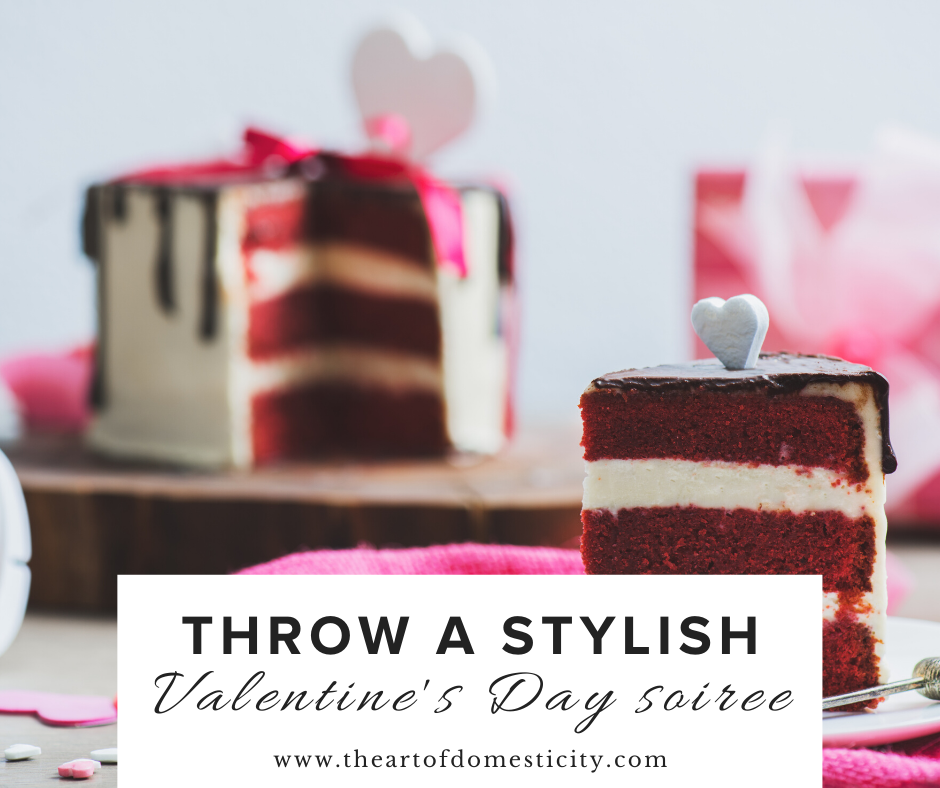 A lack of space at home certainly doesn't mean you have to put your desire to host a stylish and fabulous event on hold. If you're eager to entertain your friends and family, but you are worried that your space is just too small or cluttered, enjoy these tips on how to host a chic soirée for Valentine's Day in even the coziest of spaces.
Re-Invent your Dining Room Table
You can still host a sit-down dinner even if you don't have a table or a dining room in your small home. Drape a stylish tablecloth over your coffee table or a desk and have your guests gather round either floor cushions or, if you're using a desk, regular chairs.
If using a coffee or other low table as a dining surface, look to throw pillows, ottomans, and overstuffed poufs as seating options for a casual, wanderlust feel. Without proper chairs, you'll be able to fit more people around a table, and it won't feel too tight.
Don't be afraid to mix and match dining chairs. A combination of folding chairs, long benches, accents chairs and cute poufs work just as well. Just be sure all the seat heights are the same so that no one feels either higher or lower than another guest.
Buffet anyone?
Whether inviting friends over for a tea or dessert party or looking to host a full dinner, consider serving snacks, drinks, and a meal buffet style. This way, you won't crowd your small dining table with additional serving pieces.
 Utilize every space to prevent crowding and allow easy access to your serving areas. Try and use every table, console, and chest you have. When entertaining, a console can become a buffet, a folding table an eating surface, and a bookshelf a bar. Just try to space out where you set up these distinct areas, so your guests don't end up crowded in the same corner. Having different areas will also encourage movement and flow, and prevent a bottleneck.
Simple table setting

In a small setting, too much extra tabletop styling can make a space feel cramped, so simplify your tabletop and serving surface décor. Try using plain glassware as vases for fresh flowers, and elegant candlesticks to cast a flattering glow.
 The candlestick holders and votive, pictured above, are from William Sonoma.
Keep your theme simple and consistent throughout your home
Ideas for your food and beverage selection: 
One cute and easy thing to serve at your party is heart-shaped scones. Aren't these adorable? While you can't tell by the picture, these are actually orange scones. Here is a wonderful orange scone recipe that I found on Yummy, Healthy, and Easy. If you aren't keen on orange, you could try this buttermilk scone recipe.
Everyone loves a good party favor! Why not give heart-shaped sugar cookies? You could make it more festive by wrapping the cookies with a pink or red ribbon. Not sure how to make sugar cookies? Martha Stewart has a delicious sugar cookie recipe.
If you are curious about why we celebrate Valentine's Day, Refer to my post from last February to discover the origin of Saint Valentine.
Happy planning and decorating!
XO,
Sandra Maddox