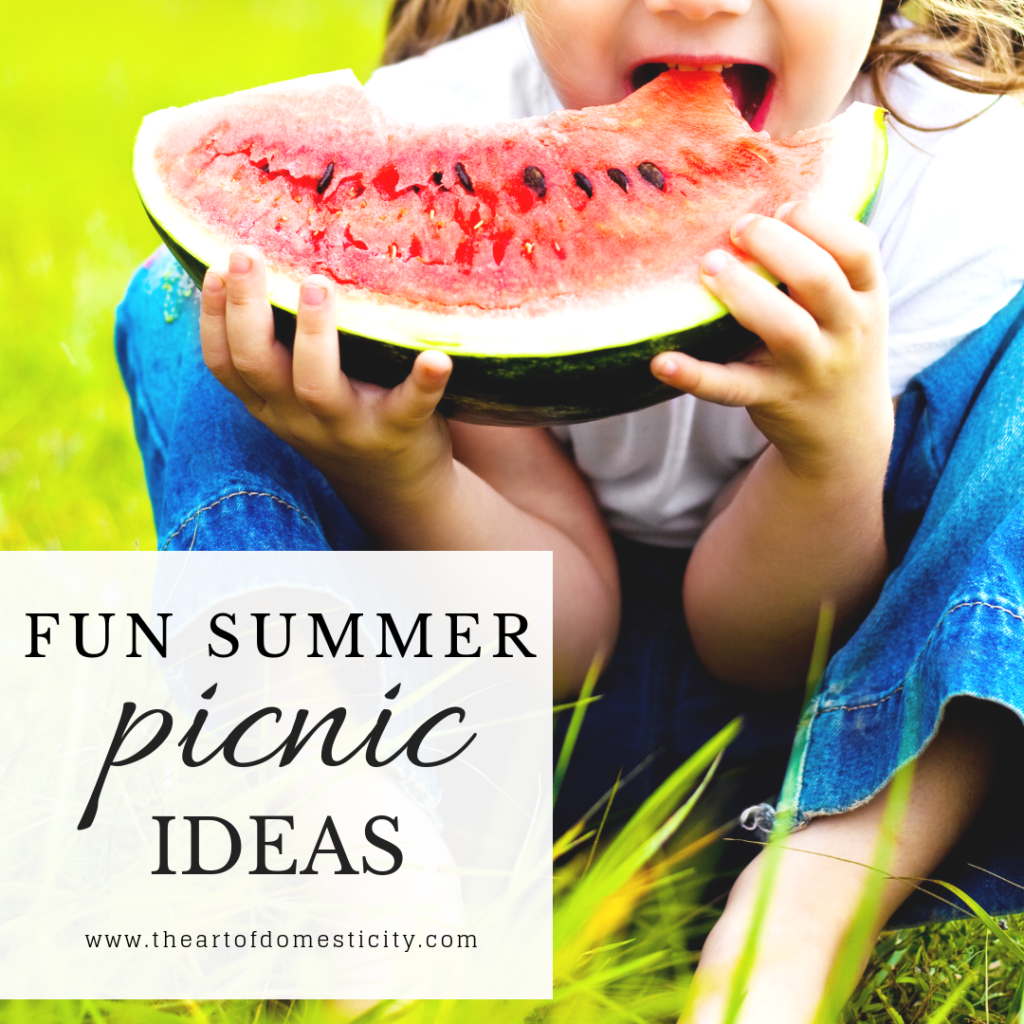 I'm not sure when I became enamored with picnics. Nevertheless, my childhood memories are filled with picnics both at the beach and local parks. Along with fond childhood memories, I vividly remember throwing a picnic for one of Tiffany's birthdays at Knott's Berry Farm. We used a big plaid blanket and had a spread filled with lemonade, cupcakes, watermelon, corn on the cob and chicken. That day was an exceptional spring day and the lawn was dotted with people doing the same thing.
Warmer weather is finally here and it has brought with it more daylight, time playing outside, and various opportunities for picnics. Below are a few simple and fun picnic ideas for you to try this summer with your friends and family.
Classic picnic:
Picnics in your backyard or at the park are a classic way to have fun with a packed lunch. To change things up a bit, you could easily make some sun tea to bring along by adding a few tea bags to a glass container and letting it steep for 3-5 hours. Another fun way to spice up the picnic is to bring along some cute melamine plates like the one pictured above. Don't forget to pack a picnic blanket and your sunglasses! The adorable polka dot blanket can be found on Etsy.
Beach Picnic:
Living close to the beach makes it another fun place to host a picnic! Here are some things that you will need:
1. Towels
2. Picnic blankets
3. Hat or sunscreen
4. Cut fruit or finger food
If you end up making some sun tea or lemonade, mason jars are an easy way to keep the sand out. Oranges or other fruits, with a thick peel, are a great thing to take along to the beach. Want some delicious picnic ideas besides watermelon? Click the recipes below for some fabulous recipes and unique ways to pack your food. I am sure that your mouth will be watering by the end of the list.
Recipes:
2. Caprese Salad (Easily stored in a jar).
6. Greek Hand Pies (hand pies/ empanadas are great for picnics).
7. Try making some lasagna in a jar if you feel like getting a bit fancy.
Keep your food fresh and cute:
1. One way to keep your food fresh is to keep it in tightly sealed mason jars. This also keeps the bugs out and works fabulously with pasta salads, fruit, and beverages.
2. Adorable Vinyl Sandwich wrap. Or you could easily wrap your sandwiches in unbleached parchment paper//wax paper bags. To make it a bit fancier, you could tie a string around the wrapped sandwich.
I encourage you to take a tiny mental vacation and go on a picnic! You don't have to do all of the prep work, because you can easily turn a picnic into more of a potluck styled meal.
The most important thing is that you are spending time with the people you love. Take time to relax and enjoy this season that is upon us, creating memories that last a lifetime!
XO,
Sandra