The Super Bowl is coming up this Sunday! You might be starting to look for a simple and delicious recipe to bring to your next gathering. This recipe was inspired by men's love of bratwurst. I wanted to combine bratwurst into a tasty delicious bite-size appetizer for everyone to enjoy.
This recipe uses prepared pizza dough and an ice cube tray to create delicious little pockets you can fill with your favorite ingredients.
I used two combinations: one set using pizza style ingredients and one set using reuben style ingredients.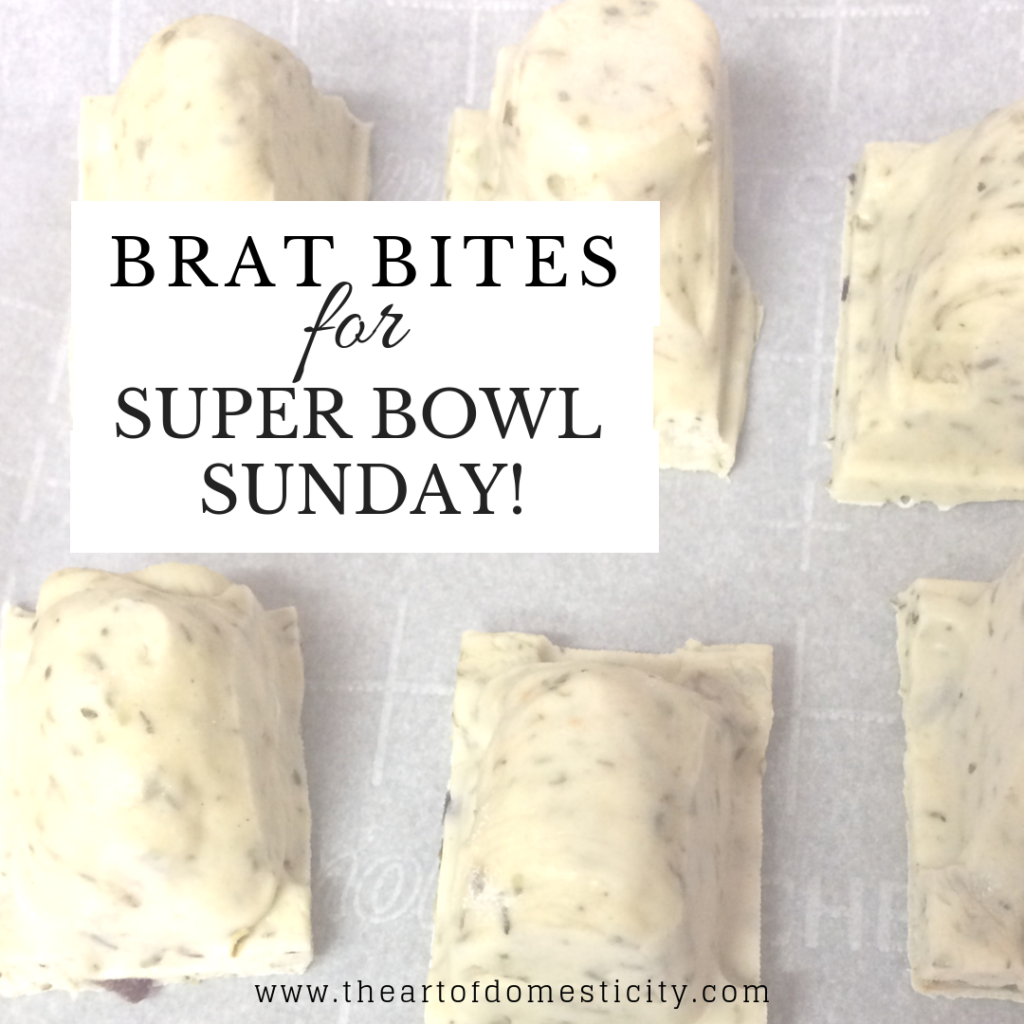 Brat Bites
Ingredients:
1 Ice Cube Tray (spray with non-stick spray)
1 bag herb and garlic prepared pizza dough (Trader Joe's)
1 package precooked nitrate free Brats (Trader Joe's)
1 purple onion
Filling Ingredient Variety
For Italian-Style use: Shredded cheese, tomato sauce, cooked onion, and brats, Italian seasoning.
For Reuben-Style use: Shredded cheese, Thousand Island Dressing, cooked onion, Brats, and Sauerkraut
Instructions
1. Spray Ice Cube tray with cooking oil
2. Divide Pizza Dough into 2 sections.
3. Roll pizza dough until thin on a floured surface
4. Place ½ of pizza dough over Ice Cube sections and press into tray sides to create 12 pockets to fill.
5. Sautee diced onion until tender.
6. Brown Brats on griddle and dice into very small pieces. Just one brat is enough per Ice Cube Tray.
7. Fill pockets with variations of the ingredients listed above.
8. Top tray with other ½ of dough and then take rolling pin and trim of the excess dough.
9. Take a fork and use the twines to create a seal around the edges.
10. Place ice cube in freezer for one hour.
11. Gently take out dough of the Ice Cube tray by tapping on it upside down.
12. Use a knife to cut into 12 bite size sections.
13. Place on parchment paper lining a cookie sheet and brush tops lightly with olive oil.
14. Bake 350 degrees for 30 minutes, or until golden brown.
Variation: You can also fill with any of your favorite pizza toppings: pepperoni, sausage, vegetables, olives, artichoke hearts, etc.
I hope you and your friends enjoy the unique favors and style of this recipe. Have fun on game day! I hope your team wins!
Blessings,
Shelly Byrd