All-American Father's Day Feast Menu: Lemon-Worcestershire Steaks/Easy Mashed Potatoes/Green Beans/Apple-Pear Tarts
Honor your husband or Father this Father's Day with this All-American feast.
Going back to your youth, do you remember key moments with your Father? I remember when I first learned how to ride a 2-wheel bike. My Dad ran along-side me and gave me a big push before letting go. He propelled me forward, and I never looked back. He set me in motion for better things in life, and all the adventures that followed.
Dads can feel like a comfort, a fortress to us as children. Dads can look after us with a love that no other man can give. We become strong as woman by watching our father's succeed with strength and confidence.
As we evolve and blend into our new family, we watch our husbands become wonderful Fathers. We watch them love and push our children to become all they are meant to be. They cheer on our kids in sports, in music, and in relationships with other men.
Thankfully, we have one perfect Father in Jesus Christ. He is the most reliable and loving Father we can seek to receive his promises of pure acceptance and unconditional love as we walk our path in life. It is God's light in us that teaches us how to truly love others and see beauty in all things in life.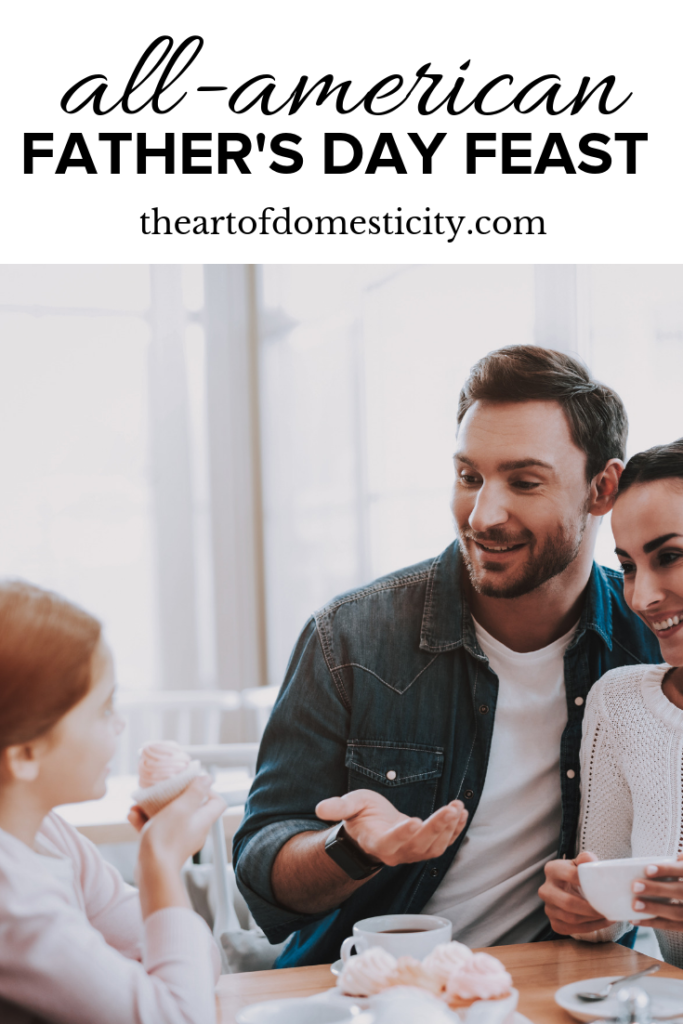 Please enjoy your Father's Day by firing up the grill and honoring those you love. May your hearts be filled with loving memories and may you experience joy this year at your new gathering.
FATHER'S DAY FEAST (2 PORTIONS)
Seared Ribeye steak with Lemon-Worcestershire Sauce
Steaks:
2 ribeye steaks (3/4 lb each)
2 tbsp Porterhouse seasoning
Juice of 1/3 lemon
2 tbsp olive oil
Sauce:
3 tablespoons Worcestershire Sauce
Juice of ½ fresh lemon
Lemon zest from ½ lemon
1 tsp flour
Pierce steaks with fork. Sprinkle steaks with seasoning. Put steak, lemon juice, and olive oil into a large ziplock bag and seal. Marinade 20 minutes.
Cook steaks on the BBQ or grill pan, cook about 5-7 minutes per side over medium heat (for a steak cooked medium). Remove from heat and let rest for a few minutes before cutting on the diagonal of the meat grain to keep juices intact.
For the sauce, mix Worcestershire sauce, lemon juice, ½ of lemon zest, and flour in a small container and shake well to get out all lumps. Pour into a small saucepan and cook over heat until thickened. Pour over steak after plating.
Easy Mashed Potatoes
1/2 bag of frozen Trader Joe's mashed potatoes
¾ cup milk
Salt and pepper to taste
1 tsp fresh chives
2 tbsp butter
Luckily, Trader Joes has perfected easy mashed potatoes, saving time in the kitchen and these truly taste great. This is much faster and easier than peeling potatoes and boiling them. Place all ingredients above over low heat, stirring occasionally until smooth. Add other ingredients if desired – sour cream, cheese, garlic, or bacon.
Fresh Green Beans
½ pound fresh green beans
Cut of ends of green beans where needed. Steam 17 minutes.
Plating the Meal:Place mashed potatoes in the center of the plate with a higher mound of potatoes in the back. Place thinly cut ribeye over the potatoes and drizzle with Worcestershire sauce and top with remaining lemon zest. Place green beans around both sides of the plate.
Simple Muffin Tin Apple-Pear Tarts (Makes 4 small tarts)
INGREDIENTS
1 ready-made pie crust
1 chopped gala apple, peeled and cubed
½ ripe pear, peeled and chopped
2 tbsp granulated sugar
1 tablespoon flour
1 teaspoon ground cinnamon
1/8 teaspoon ground nutmeg
1/2 teaspoon pure vanilla extract
2 tsp melted butter
Spray a regular size muffin pan with non-stick spray and cut 4 circles of dough in a 3-1/2 inch circle. I used the top of a wide glass, which worked fine. Place dough circles in muffin tin and press to form. Use leftover dough scraps to make decorative tops.
Mix all remaining ingredients together and place in muffin tins.
Cut thin straight layers of crust and make a lattice pattern by overlapping dough into a basket weave pattern, or cut cute shapes.
Bake at 400 degrees for 27 minutes.
When still warm, use a spoon to gently remove tarts from the muffin tin.
Serve with vanilla ice cream and caramel sauce, if desired.
Hope you enjoy your Father's Day Feast!!
Blessings,
Shelly Byrd