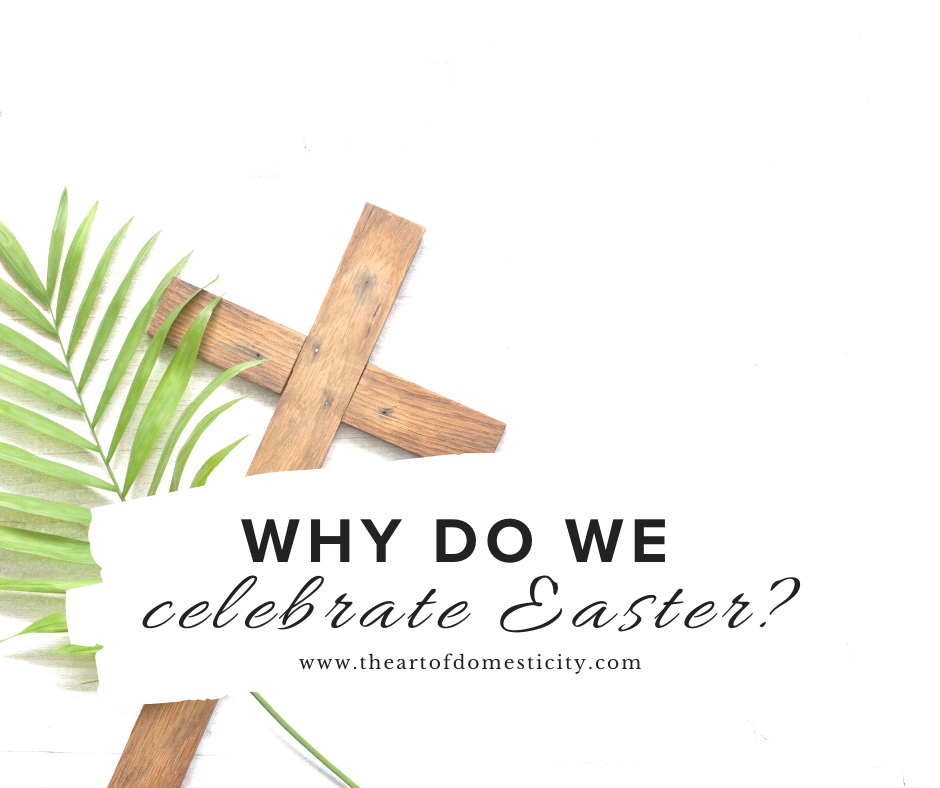 "He isn't here! He is risen from the dead, just as he said would happen."
When I was young I loved going to Easter egg hunts and getting my picture taken with the Easter bunny. I especially loved waking up on Easter morning and finding a basket filled with a chocolate bunny and other gifts just for me! I always had a new dress to wear, and we took pictures on the front porch before heading to church. After church, we would have a special lunch with family that often included baked ham, (which is also still a favorite of mine). And then Monday would roll around and everything would go back to the way it was before.
Life would go on; day after day; year after year.
Until one year in my early 20's. The year I took the faith that my parents had trained me in when I was young and made it my own. The year I began a personal relationship with Jesus.
That was the year Easter came around and never ended…
A few weeks ago I got the Easter books and baskets out of the storage closet. Our books are a nice mix of bunnies with eggs and Biblical truth. One night I was reading one of the bunny books to my daughter and we got to a page that said something to the effect of, "That's what Easter is all about…being kind and helping one another." Immediately my almost 7-year-old said, "That's not what Easter is about!"
Easter is not about bunnies or eggs or chocolate or even being kind to one another.
Easter is a celebration of the greatest day the earth has ever known. The day that splits time between BC and AD. Easter celebrates the very thing that I stake my life on every day; the very thing that has become the air that I breathe—all day, every day.
The defeat of death. The hope of glory. The Risen Christ.
Nothing else matters if Easter didn't happen.
"And if Christ wasn't raised to life, our message is worthless, and so is your faith. If the dead won't be raised to life, we have told lies about God by saying that he raised Christ to life, when he really did not." (1 Corinthians 15:14-15 CEV)
But if he did… It's everything. And I believe with every fiber of my being that one Sunday morning some women went to the tomb of a man they loved and found it empty. And that Jesus appeared in flesh after his crucifixion to many people, including some who watched him die. I believe in Easter. I believe that Jesus is who he says he is. I believe that God's Word is true. And my life is a testimony to that.
Because of Easter, I face the tough stuff in life with a different perspective.
Paul said, "So we don't look at the troubles we can see now; rather, we fix our gaze on things that cannot be seen. For the things we see now will soon be gone, but the things we cannot see will last forever." (2 Corinthians 4:18 NLT)
I have an arthritic spine and degenerative disc disease. I had my first set of x-rays done on my back when I was 11 and the first of two surgeries when I was 18. After my most recent surgery, my surgeon told me that we aren't done yet, and that as I age things will only get worse. That's not a very exciting prognosis. Back pain is no joke, and if God would miraculously heal my spine I would be incredibly grateful. But if he doesn't, that's ok too. Because back pain and discomfort and surgery and medicine is annoying—sometimes life-altering—but it's temporary. My eyes are fixed on what is eternal. Spending all of forever in a perfect heaven with a perfect back and best of all…in the presence of God himself is what I'm waiting for.
Without Easter, the bad things that come my way could overwhelm and overcome me; a life lived in fear of what the future might hold. Will I be able to walk when I'm older? How many surgeries will I need? Will there come a point when severe pain is the new normal for me? Without the hope of an end to these temporary problems, I could easily get depressed, sad, angry, frustrated… But there is hope. The hope of heaven because of the resurrected Christ.
Not only do I want to understand this important truth we are reminded of on Easter, but I also want my kids to understand the significance as well. This is a celebration for our entire family – The Word Made Flesh suffering death, and then conquering death for all of us by rising to life.
I pray that you will start living today like every day is Easter. Live like a person who has hope. A person who has been rescued from a world of pain, and who has been given the gift of forever in heaven.
He is risen!
Blessings,
Elly