Are you looking for that unique and special way to honor your Mom this Mother's Day? I love to cook, and I think it is a very special gesture to set the table with my fine china and invite my Mom over for a wonderful meal before heading outside for some fun.
Moms bring us gifts from the heart- including caring, sharing and encouraging us all through our lives. It is our bond with our Moms that give us our foundation to love in life and look after other Moms that cross our path.
This recipe has the perfect blend of tart and sweet, as well as savory. I love the presentation and the way all the flavors blend together to say "I love you". All of these flavors remind me that all of the blessings and struggles we face in life always somehow teach us about unconditional love.
I hope this recipe will bless your time with your Mom this holiday, and help to reinforce your love and admiration for her.
If desired, you can also serve this toast with cut up fresh fruit and some pomegranate juice with a splash of Perrier.
During the meal, bless your mom with a gratitude list and tell her how much you appreciated all the things she has done for you, and give the list to her at the end of the meal.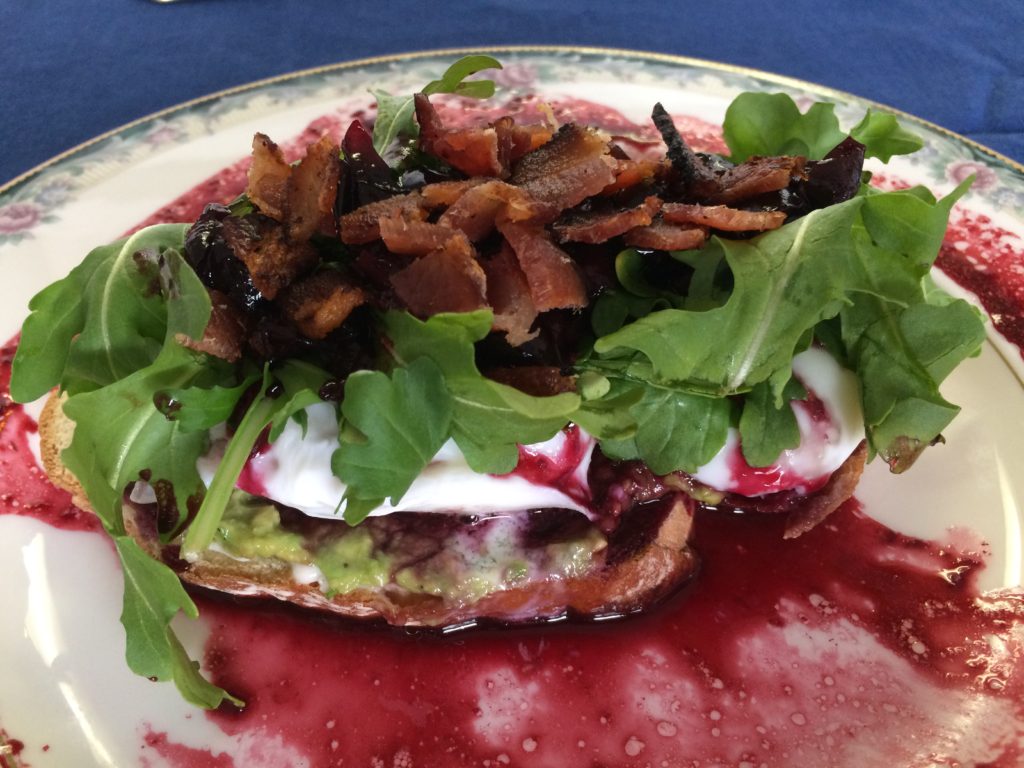 Cherry-Balsamic Toast (2 servings)
Ingredients:
2 slices Shepherd's Bread – lightly toasted just before plating
3 tbsp Mascarpone cheese (TJ's)
6 sprigs fresh chives
1 large and ripe avocado
4 eggs, poached
1 tsp balsamic vinegar
1 c. dark, sweet cherries – pitted (TJ's freezer section)
1 tsp butter
2 c. arugula
2 slices cooked bacon
Directions:
1. In a small bowl, mix Mascarpone cheese and chopped chives together and set aside.
2. In another small bowl, mash avocado with fork and set aside. Mix in salt and pepper to taste.
3. Add cherries to a sauce pan. Cover and cook over low until warmed through. Add butter and balsamic. Mash lightly with spatula to make reduction sauce.
4. Cook 2 pieces of bacon and chop.
5. Poach 4 eggs. Fill sauté pan up half-way with water, bring close to a boil and reduce heat to medium. Crack eggs directly into water and space them out. Cover and cook approximately 8 minutes. Do not turn them. Gently remove with slotted spoon.
6. Lightly Toast bread and assemble.
Assembly: Start with toasted bread, spread on mascarpone cheese mixture, cover with avocado mixture, top with 2 eggs, add arugula. Spoon cherry mixture on top of arugula and top with chopped bacon. Dress plates with cherry reduction sauce, if desired.
With Love,
Shelly Byrd