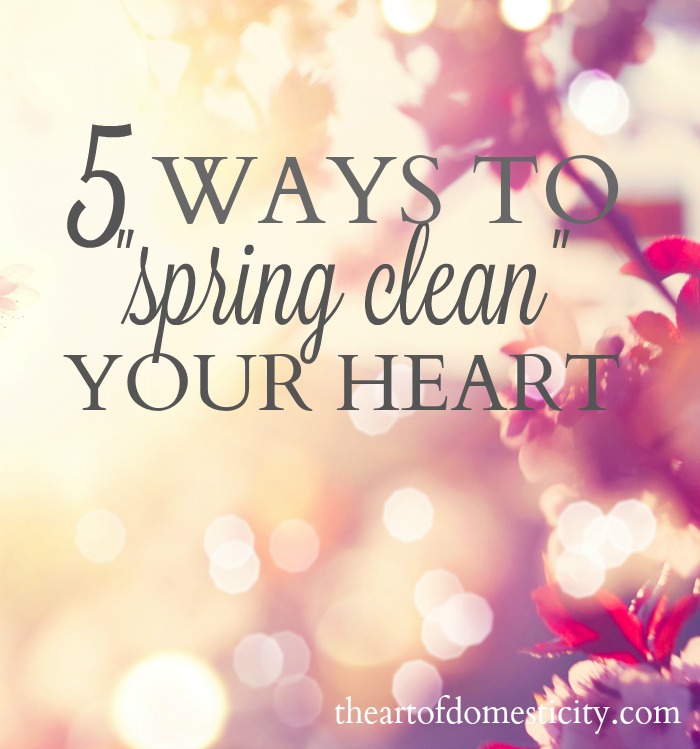 Recently, I moved from the snowbelt to southern California. In my new home, the transformation of winter into spring doesn't have quite the same impact as when the chilly snow melts and trees that spent the entire winter eerily dormant suddenly burst forth into green. Up north, the looming excitement of spring even made the air smell differently. The wind carried with it an exhilarating expectation, a sweet warmth lacking in the cold, grey winter days.
There is one tradition, though, that hasn't changed – and that is spring cleaning. While I'm generally an unconcerned housekeeper, an itch to clean usually develops during this time of year. That's because sometimes in order to fully embrace a new season as well as to grow in our faith, we have to let go of the old things. Isaiah 43:18 says, Forget the former things; do not dwell on the past.
As I tidy up drawers and empty closets, the thought of spring cleaning my heart and soul also becomes important. One of the greatest lessons life teaches us is to let go. Not just of stuff that are no longer useful, but we also can't hang onto past hurts, struggles, even hurtful relationships. Just as we declutter our homes, we ought to eliminate the items in our lives that weigh us down.
So as you break out the mops, brooms and cleaning supplies to tidy up your home, use the same methods of seasonal housekeeping to bring new energy to your life.
1.) Purge old attitudes that prevent movement into a new season.
Are you holding on to any bitterness or anger? It's easy to closely clutch onto those feelings, even if they don't reflect the love of God. Pray for God to point out any grudges, ill feelings or resentments. Use the warm spring breeze of His wisdom to blow these away and embrace new found spiritual growth.
2.) Use the cleansing power of grace liberally.
Grace covers the mistakes of others. Use it to improve your interactions with others by applying the new, glossy shine of forgiveness. Don't forget to use grace on your past mistakes. Wipe away any lingering beliefs about them keeping you mired in the muck of the past.
3.) Remove the cobwebs of negative thoughts.
How many times do you say, "I can't do this?" Or, "I'm not talented enough." God sees you as a beautiful masterpiece, so dust away any pessimistic attitudes and latch on to the spiritual truth of your identity in Christ. This is a great way to experience a vivacious, encouraging thought life.
4.) Spruce up your spiritual habits.
Prioritize your relationship with God. Ask Him to reveal what needs to be changed in your life. Find a new way to connect with Him. Perhaps take a walk in the emerging growth of nature and worship Him outside. Where you feel dry and empty, ask Him to add a sweet-smelling sprig of hope, anticipation and joy. Being alert to His will carries wonderful blessings.
5.) Put a new shine on stale relationships.
Slow down and enjoy community once again. Restore the luster to friendships by connecting and showing love once again. Call or get together with a friend you haven't seen in a while. Send a note of encouragement to let a pal know how important she is to you.
This spring, don't just open the doors to your home to let the warm, fresh air in. Unbolt the gate to your heart. Invite God to show you where you need some cleaning up in order to grow deeper in your faith and closer to your loving Father.
Joy is a Journey. Join me!
Myra Biernat Wells
www.myrawells.com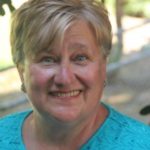 Born on a 100 degree day, Myra Biernat Wells embraces life with warmth and intensity. She learned the wonder of words early on, making storytelling an integral part of her life. Feeling called to instill joy and restore hope, she writes about finding God's beauty in life's broken moments. Beloved of God, Myra shares her faith journey to honor her redemption in Christ. Her first book, Rivers in the Dry Wasteland, is a collection of uplifting short stories sure to encourage and inspire.
From cuddling koalas in Australia to swimming with dolphins in Hawaii, Myra answers adventure's call with lots of travel. She also enjoys cross-stitch, reading, swimming, singing and staying connected with friends. Her latest project is training her mischievous German Shepherd, Lily, as a therapy dog.
Myra admits to being an unconcerned housekeeper, a marginal cook and a plant killer, but sharing her home with her husband Richard is the most fun she's ever had!