Celebrate the Luck of the Irish with this warm and inviting homemade latte. I love the vibrant green color of this hot drink and how stylish it looks to offer to friends. Matcha is a ground powder made from small green tea leaves. It is traditionally used for a special Japanese tea ceremony. There are many health benefits associated with Matcha tea, including anti-oxidants that preserve a youthful appearance, boosts metabolism to help weight loss, and boosts brain function.
The foam layer of milk added to this festive drink adds a festive appeal. Making foamed milk is not as hard as you might think, and no expensive cappuccino maker is needed. A simple mason jar does the trick.
Enjoy the holiday, and don't forget to wear green to avoid getting pinched, because legend suggests that leprechauns (or tricksters) cannot see the color green. May good luck go before you and last all the year long.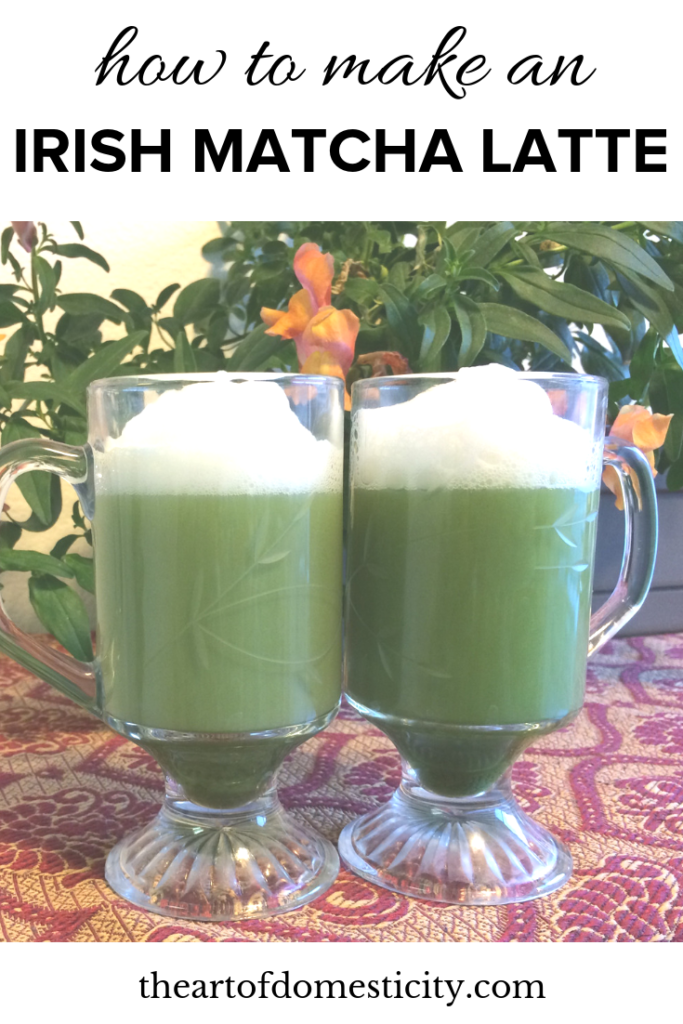 Ingredients per mug:
1 tsp Matcha Powder
1/2 tsp sugar or sweetener of choice
Hot Water
Foamed Milk
Directions:
1. Place 1 tsp Matcha Powder and 1/2 tsp sugar in a decorative mug.
2. Fill 2/3 full with hot water and stir.
3. In a mason jar, add ¼ c milk of choice. Put the lid on the jar and shake vigorously for 30 seconds until frothy. Take lid off jar and place jar in microwave to warm milk for 45 seconds.
4. Spoon milk froth on top of the Matcha Tea.
5. Enjoy.
Blessings,
Shelly Byrd