Add a fun flair to your Easter table with these decorative mini Easter baskets. These can be used directly on your holiday table to direct the guests where to sit. Generally, when determining who sits where at a holiday meal, the host and hostess sit at the ends of the table. The first and most important guest of honor sits to the right of the host, and the second most important guest sits to the left of the host. When determining the most important guests, they can be seated according to the oldest guest, distinguished guest, or guest of honor. The host will generally start to pass the dishes of food to the right and the most important guest will be served first.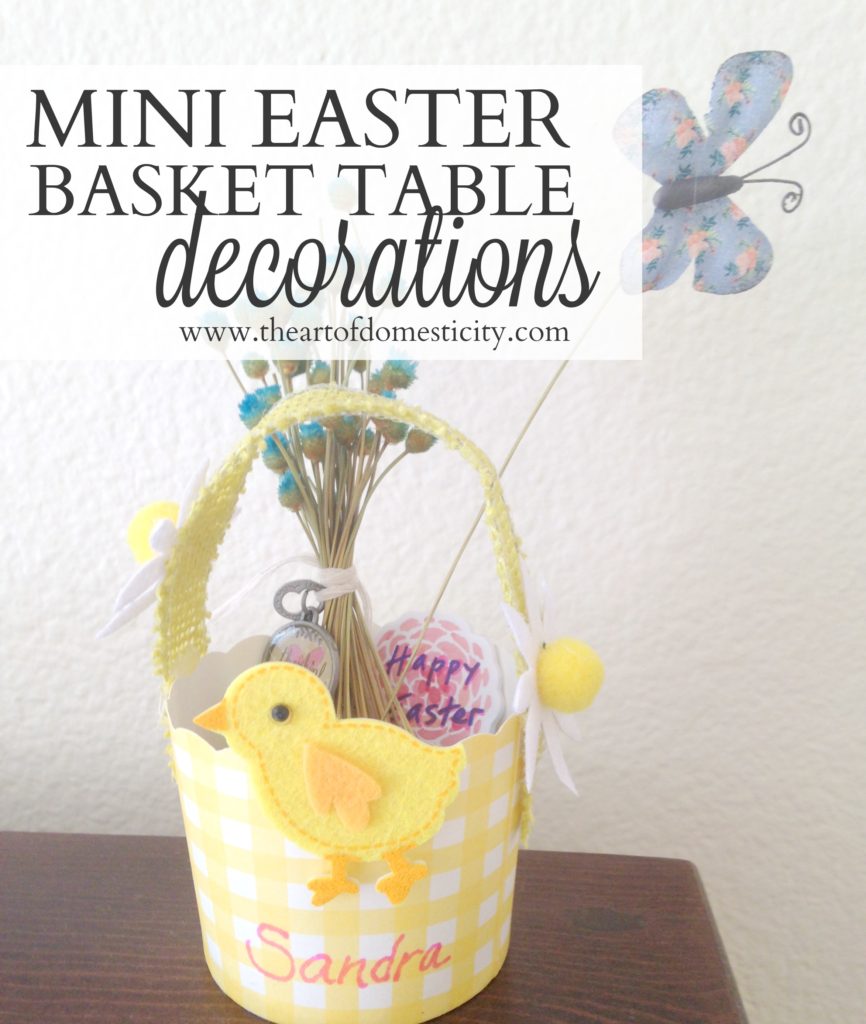 Materials needed for this craft (makes 8 baskets):
Hot glue gun
8- Sturdy Paper Muffin Cups – I used 2-1/4" tall yellow gingham large baking cups from bakeinacup.com
1 pack of 2-1/2" circular Foam Rolls, cut into ¼" slices
1 pack Peat Moss – emerald color
2 bunches Petite straw flowers – known as happy flowers
8- Christian Trinkets – these were trinkets used for charm bracelets
8- Key Trinkets – these were used for charm bracelets
8- Easter cutout foam stickers
Twine
64" of  ¾" wide wire ribbon with flowers
8- 2" butterfly fabric cutouts
1 package Whoppers speckled mini robin eggs
1 package Sweet-tarts Jelly Beans
8- Mini spring themed post it notes – decorative
8- Mini chocolate bunnies
Step-by-step directions:
Start by cutting wire ribbon into 8" strips.
For the handle, glue ribbon onto paper baking cups (covering paper seams)
On the center front of the cups, glue the Easter foam decorations, with ½" sticking above the cup.
With a sharpie pen, write the first name of the guest below the Easter foam sticker decoration.
Cut round foam about ¼" thick and place in the bottom of the paper cup.
Cut peat moss to cover the foam.
Take about 30 of the straw flowers and arrange in a small bouquet.
Lay the bouquet flat on a piece of twine and interlace the key and Christian saying charms when tying the twine.
Push the sharp end of the bouquet stems through the peat moss and into the foam holder. Place on the back left side of the basket.
Take a piece of one straw flower stem, and break off the flower and bend the stem. Glue a fabric butterfly onto the end of the stem and place in the center of the straw flower bouquet.
Write "Happy Easter" on a decorative mini post it notepad, and place next to the bouquet.
Fill basket with assorted candies, such as mini jelly beans, speckled robin eggs, and mini chocolate bunnies.
Place on your Easter table with love.
As a note, I purchased most of these items at Michael's craft store.
Love and Blessings,
Shelly Byrd