Look no further for a modern and delicious St. Patrick's Day treat you can make with the kids. These are perfect for lunch treats or classroom parties. Green and St. Patrick's Day go together since the shamrock became Ireland's national symbol in the 18th century. Green is known to bring a bit of good luck your way, so make sure to share these treats and the good luck with others.
This is a very easy recipe for kids of all ages in the kitchen.  I started with the original rice krispies treats recipe and added matcha tea powder for a unique look and festive flair. The green glaze is made with white chocolate chips melted with matcha tea powder.
I chose matcha tea instead of green food coloring for its health benefits and rich natural color. Matcha is derived from grinding the whole green tea leaves into a fine powder. It is considered a superfood because it is so rich in nutrients. Matcha contains 10 times the antioxidants of regular green tea. It also helps improve mood and concentration.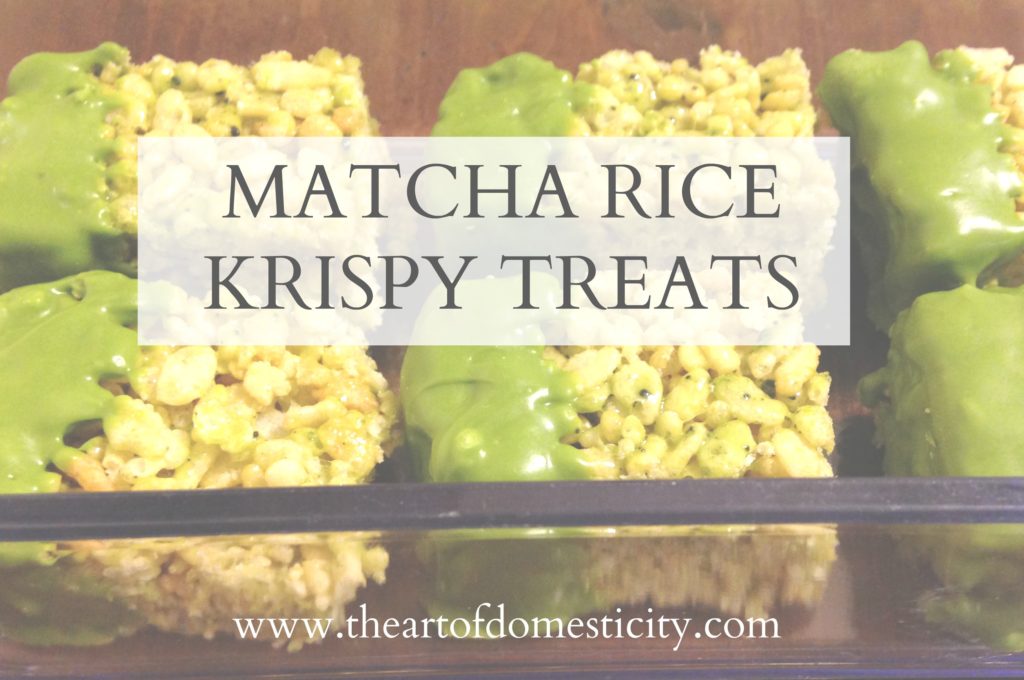 To make these delicious treats, follow the easy recipe listed below:
Prepare a 13×19 inch baking dish with parchment paper.
For the Krispy Treats:
3 tbsp butter plus 1 tsp extra to coat the saucepan
1 package (10oz) mini marshmallows
6 cups Rice Krispies Cereal
4 single serve packets of Matcha Green Tea Powder, each packet contains 1 tsp powder (Trader Joe's brand).
For the glaze:
2/3 cup white chocolate chips
2 single serve packets of Matcha Green Tea Powder (Trader Joe's brand)
Lightly brush inside of saucepan with butter. Add 3 tbsp butter and marshmallows and stir until marshmallows are melted. Remove from heat and stir in 4 packets of matcha powder. Blend until mixed well, then add Rice Krispies and fold to incorporate together. Press into a parchment lined 13×9 pan. Spray spatula with non-stick spray and press firmly to press together for good form. Let sit about 20 minutes before cutting.
For glaze, add 2/3 cup of white chocolate chips into a glass bowl. Microwave in 30 second increments and stir well between each one until chocolate is smooth and without lumps. Add in 2 packets of matcha powder and stir until blended.
Cut Crispy Rice squares into 3" bars and dip the tip into the chocolate. Set on parchment paper and refrigerate for about 5 minutes until chocolate is set.
Blessings,
Shelly Byrd