Let me share with you one of my favorite memories in my Christmas Treasury and some nostalgia to kindle your Christmas Spirit. It was 1974, I was 8 years old when I received a real Radio Flyer metal sled. This sled became one of my most coveted gifts as a child.
My family had a cabin in Lake Arrowhead, and we often spent Christmases there, hoping for snow and dreaming of a white Christmas. This year was no different. My Mother and Father packed up the car with groceries, wrapped gifts, and we headed up to the local mountains. That year, my Grandparents joined us, bringing a special guest. I called her Aunt Alice, as my Grandmother instructed me to. Alice and my grandmother were good friends and neighbors.
Alice had worked hard all her life as a waitress, and had a hard work ethic. She was short in stature with golden auburn hair, and limped slightly when she walked. I met her in her later years, during her retirement. Whenever I would visit my paternal Grandparent's house, Alice was always invited to stop by for a visit. She was a kind-hearted woman, simple and understated. She had a hardy laugh that would enliven us all. I was happy she was joining us for Christmas this year because she made the cabin feel more festive.
The weather was cold and damp, and we could see our breath. My Father started a big roaring fire in our stone fireplace and my Mother started to make some vegetable soup. As dusk began to draw near, our wish came true and snowflakes began to fall on Christmas Eve. A big storm front was coming through. The pine trees looked so beautiful all dusted with a new snow. We went outside to rejoice and catch snowflakes on our tongues.
Everyone stayed up late visiting and playing games. When I awoke first on Christmas morning, I went upstairs to find a radio flyer wooden sled with a big red ribbon around it. I was so thrilled to find out that it was from my Grandmother's friend, Alice. I couldn't wait to take it outside to try it out. I put on my gloves, scarf and snow boots and headed outside while the others were still sleeping.
Christmas morning, I walked outside on the road with my new sled and followed other kids that were walking over to a steep sledding hill close by our cabin. There was a water tower at the top of the hill that we used as a landmark and a wide path for sledding. The snow was packed well from all the use and the sleds would go very fast. We all waited patiently in line for our turn. It felt so exciting to go so fast and  play with so many other kids. I went down the sledding run at least 20 times before heading back to our cabin for breakfast and to give Aunt Alice a big hug and kiss. This moment in time became one of my favorite memories.
I used my sled faithfully every winter of my youth. I would carefully dry off the metal blades at the end of the day, and place it near the fire to stay dry and avoid rust. I knew I should take good care of it, because I knew that Alice had worked hard to buy that gift for me.
As much as I adored that gift, it meant the most to me because I knew the kind lady behind the gift. Aunt Alice was an excellent role model for me. Every time we shared time together, she always had kind and encouraging words to share. And, although her financial resources were minimal, she gracefully shared what she could. Her life was precious to our family.
Create some nostalgia in your home this Christmas season. Take the time to share your favorite Christmas memories with loved ones.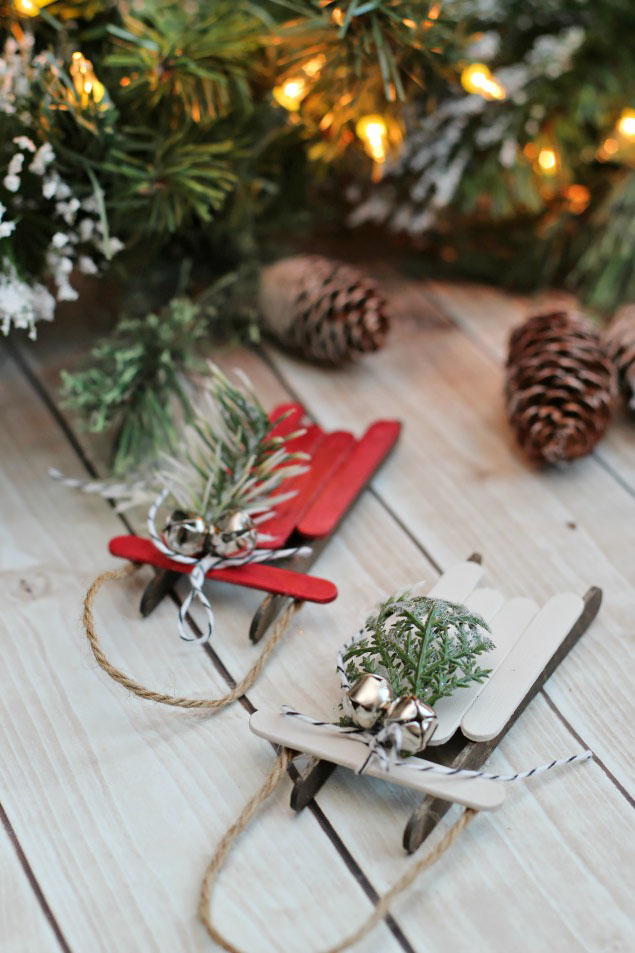 Make these darling Popsicle stick sled ornaments to enhance your tree or Christmas packages.
For detailed directions for this craft, please visit https://www.cleanandscentsible.com/handmade-christmas-ornaments-popsicle-stick-sleds/
Blessings,
Shelly Byrd