Remnants of the Thanksgiving season draw to a close. We tidy up our kitchens and houses, say goodbye to loved ones and put away the last dishes of the Thanksgiving meal. With gratitude in our hearts, we start to look forward to the upcoming Christmas season.
As parents, we know that the Christmas season holds more joy and wonderment than all the rest of the year combined. It is a time of hope, trust, and asking for what we truly desire. It is also a time of giving, miracles, church attendance and prayers.
Christmas is a time of faith and celebration of the coming of the Lord into the world. Our savior's birth is revisited during this season. This season is a time of reunification with Christ. A time of reverence and observance of traditions that reinforces our unity with Christ as the center of our families.
Our reason for the season holds the birth of Christ, our savior, in our hearts. As the bible recounts, "Therefore the Lord himself will give you a sign: The virgin will be with child and will give birth to a son, and will call him Immanuel." Isaiah 7:14. The definition of Advent means the coming of Christ into the world.
Advent prepares us for the birth of Christ and the anticipation of the second coming of Christ. Remember the gift of eternal life brought by Jesus birth and how it represents the light of God coming into the world. The heart of the season is love, and Christ provides the foundation and spirit of joy and giving during times of reconciliation and togetherness.
Advent is observed in the four consecutive Sundays leading up to Christmas. This year, Advent will be observed on Sunday, December 3rd, 10th, 17th, and 24th. As believers of Christ, each Sunday holds a specific intention in our faith. According to tradition, during each Sunday of Advent, we focus on one of the four virtues Jesus brings us: Hope, Peace, Joy and Love.
Deepen your Faith and understanding of Advent by reading 28 daily scriptures prepared by Biblestudytools.com. https://www.biblestudytools.com/topical-verses/advent-bible-verses/.
You might associate memories of advent with the use of an advent calendar. As pictured below from Woman's Day Magazine, you can make a modern and reusable advent calendar. Bring Christ into each day by adding a special bible verse into each envelope for each child, as well as a small token gift. Gifts can include chocolate coins, candy, tickets to holiday events, collectibles, certificates for festive family events such as; ice skating, tree lighting, caroling, or making homemade hot chocolate.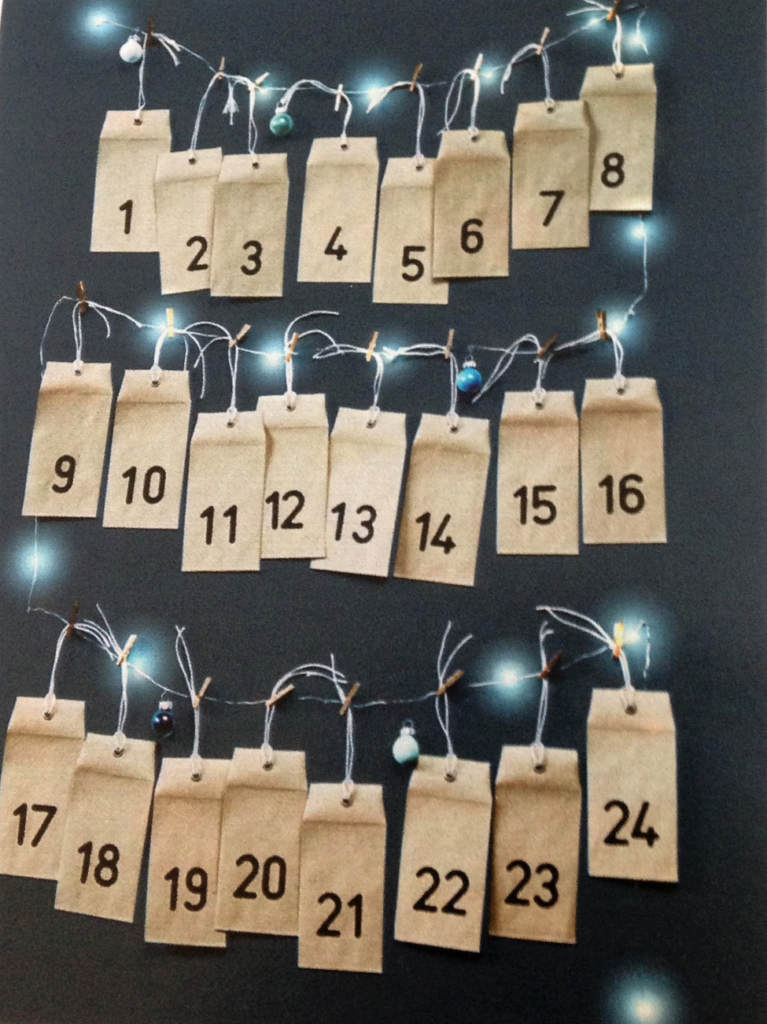 Items you will need for this project:
24 mini envelopes
Twine
Small white twinkle lights
24 mini clips
Marker or stickers for numbers
Enjoy the Advent Season with your children and loved ones. May the miracles of Christ shine brightly upon your family this Christmas season.
Blessings,
Shelly Byrd