No one would ever accuse me of being a homebody – not when there are places to explore, nature to revel in and a deep sense of wanderlust waiting to be satisfied. My travels have taught me tolerance, courage and enthusiasm.
Despite my motivation to keep moving, scouting and traveling, home always has a magnetic pull on me. Coming home has its own attraction: rootedness, stability and the ordinary. While courageous to walk out your front door and explore new cultures, spectacular vistas and diverse history, it is even more courageous to return home, unpack your bags and embrace the familiar.
Some people travel to find themselves. I've discovered the place I learn the most about myself is at home. That's because it is there I can cultivate the environment I live in, not learn how to live in one challenging me to adapt. My home is not Pinterest-worthy, but I work to make my home a haven where I ponder the love of God and learn self-truths that can only be grasped in the space of where one lives.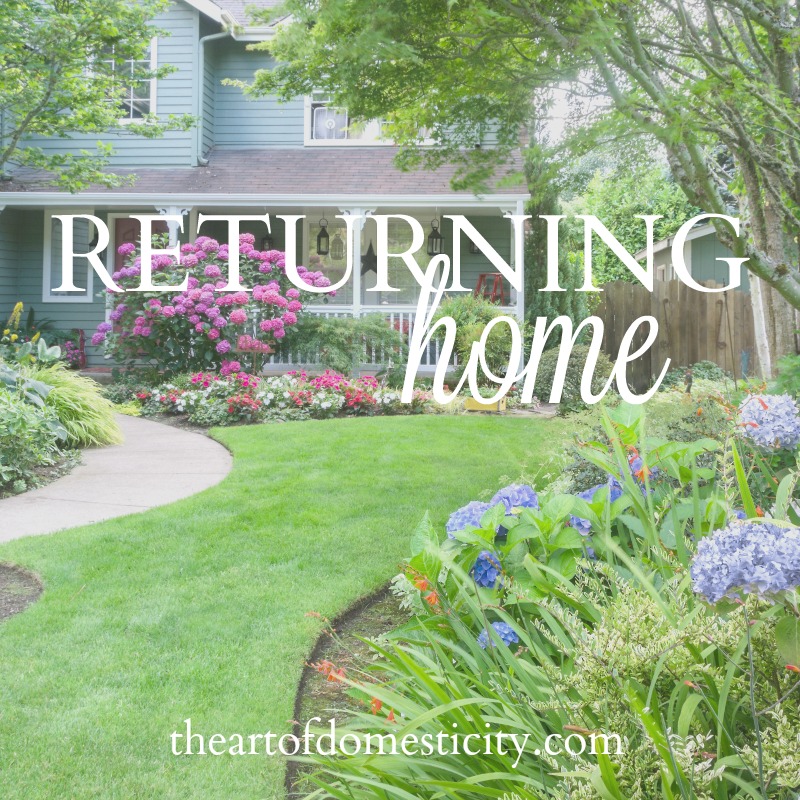 Despite being an indifferent homemaker, here are my suggestions to enjoy coming home, whether it is from a vacation or just a short trip to the grocery store:
Make your home a place of joy. Start each day thanking God for the roof over your head, the soft pillows on your bed, the smell of your garden. Every moment, there are blessings to be discovered in the ordinariness of your residence.
One summer, my husband and I hosted an English pastor. His congregation had graciously given him a sabbatical and he was traveling throughout the United States learning from different churches. After his time with us, he was to stay at an inner city ministry. They were unprepared for his arrival and we soon received a call from him begging us to accommodate him for another three weeks.
I firmly believe our less than five-star service didn't bring him back. In thanking God for what we had, our house was turned into a home. Creating a home is a function of making time to love and don't we show God's love when we're thanking him?
Not everyone's home is a sanctuary from the world. By finding joy where you live, you not only have it yourself, you can radiate it to those who need more happiness.
Turn your home into a cathedral of worship. The world tells us we are imperfect, unloved, unappreciated. Worship convinces us are loved by God, that his goodness surrounds us, that he only wants the best for us.
I love singing worship songs in the shower; sipping a cup of hot tea in my backyard humming songs imbedding my heart with the profound understanding I'm his child; traveling more deeply into my relationship with God than I could on any jet. I look up encouraging Bible verses and I journal each day, not about the world, but to praise God for all the blessings he has given me right where I live.
Create frequent celebrations. More than anything else, comparison can wreck the desire to be at home. With social media, it is so easy to quickly peek inside someone else's life and wonder, "What is wrong with mine?"
Your house doesn't have to be Versailles to be a place of celebration. During one period in my marriage, because of his job, my husband lived in one part of the country; I lived in another. We split our furniture, so neither house was fully complete. I hosted a weekly women's small group and despite the stark minimalism of my abode, we celebrated God's love, graduations, birthdays, holidays, you name it. Those women saw the love in my heart more than the lack of home furnishings. We laughed more, lived abundantly and stressed less because we had each other.
Show grace. There is an age old saying, "Charity begins at home." Then why are we sometimes the least charitable to those we live with, even to ourselves? Many of us belittle ourselves when our house isn't up to our standards. Or we lower the boom on our family or roommates if we see a messy bedroom, if the laundry isn't done or the dishes aren't washed.
I'm very fortunate I'm married to a man who understands I'm not obsessive about cleaning. In some ways, he reflects God's love to me. God understands I'm not perfect. Sin makes me messy. Yet, God doesn't expect me to be perfect. He loves me just the way I am.
God's devotedness to me teaches me good homemaking isn't so much about the house being totally spotless. It is more about loving others, including myself, well. Like a security blanket, in my home's ordinary routines, I find a beautiful doorway through which God's love can only be heard in a way that drowns out any interference traveling may bring.
Blessings,
Myra Biernat Wells