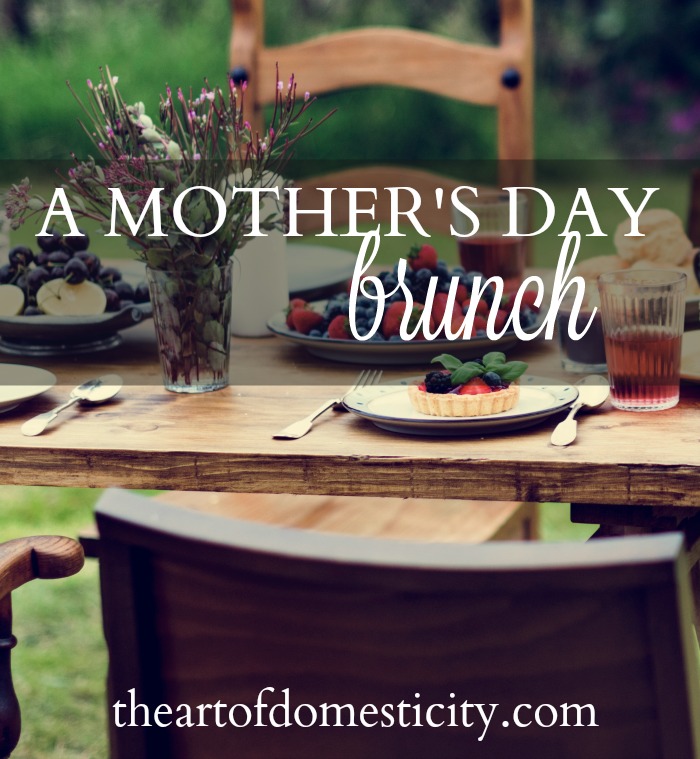 For over 100 years, since President Woodrow Wilson declared it a national holiday in 1914, Americans have been celebrating Mother's Day on the second Sunday in May.
It's fitting that a special day be set aside to honor and extol some of the most important people in our lives – our mothers, grandmothers, aunt, and sisters. In my family, our favorite way to celebrate is to gather together around the table for a simple, yet delicious Mother's Day brunch. Taking the time to reconnect with each other, to remember important family memories, and to make new memories is what the heart of every mother desires.
Everything on this menu can be made ahead or popped into the oven at the last minute so that we can still enjoy our Sunday morning church service and have a relaxing day of rest and rejuvenation. With just a little bit of planning and preparation, our moms can feel honored and cared for with a special meal on their special day.
Menu
Egg Muffins
Overnight Pecan French Toast
Oven-Baked Bacon
Fresh Fruit with Whipped Cream
Egg Muffins – You can make these individual egg casseroles the night before and rewarm, or you can make them at the last minute since they only bake for 20 minutes. These are great with ham or sausage and a variety of vegetables like onions, peppers, and spinach. Use whatever cheese you prefer.  Here's a basic recipe that you can adjust to your own tastes. http://www.food.com/recipe/scrambled-egg-muffins-12975
Overnight Pecan French Toast – An overnight french toast is perfect for a brunch. The sauce can be made quickly in the morning and poured over the bread. Here's a recipe to follow. http://www.tasteofhome.com/recipes/overnight-pecan-french-toast
Oven-Baked Bacon – Putting the bacon in the oven eliminates the mess and the need to stand by the stove. Just lay the bacon on a foil-covered pan and bake at 400 for 15 minutes, or until the bacon is done.
Fresh Fruit with Whipped Cream – We love a combination of berries, grapes, and melons, but you can use whatever is available and in season. For the homemade whipped cream, just whip heavy whipping cream with the whisk attachment in your mixer. You can add a little sugar or leave it unsweetened. Whip it until it's the consistency of whipped cream (don't whip too long, or you'll end up with butter).
Now that the food is taken care of, you can have fun decorating the table with fresh flowers and other signs of spring. If you have any dishes or tableware passed down from a grandmother or great-grandmother, this is the perfect time to use them. And handwritten notes to the mothers at the table make a heartfelt and truly appreciated gift.
This year, make Mother's Day a special day for all of the mothers in your family with good food and time spent at the table, connecting and making special memories that will last a lifetime.
Blessings,
April Huard