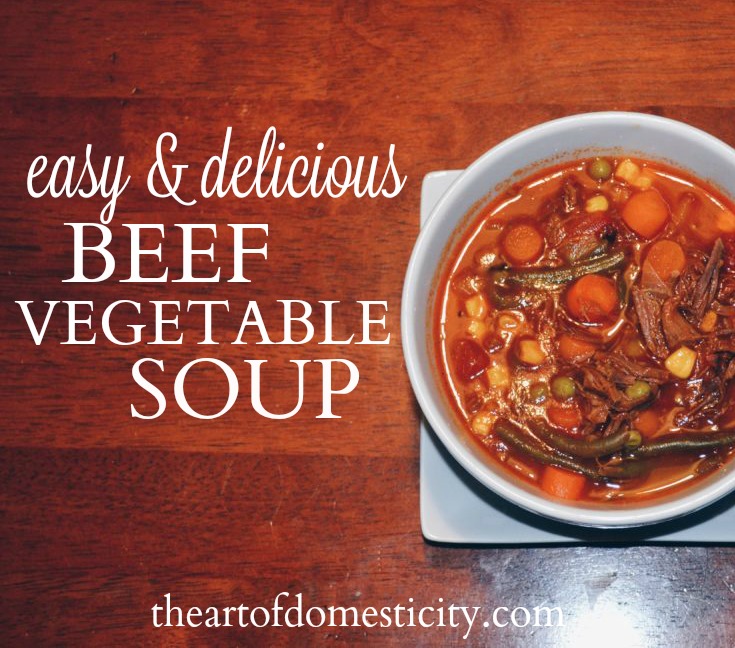 I LOVE soup! As in, I could eat it every single day in the winter. My family and I live in Michigan, which gives us a lot of soup-eating days! After hours of sledding, or ice-skating, or just grocery shopping in the freezing cold, it's nice to come home to a hearty, steaming bowl of soup!
This vegetable beef soup is perfect for a lot of reasons.  First of all, everyone likes it! I have 5 kids, and they all agree that this is their favorite.  It's also so adaptable and forgiving. If your kids hate peas, leave them out.  If they love lima beans, throw them in! Without even using a recipe, you can create the perfect meal for your family.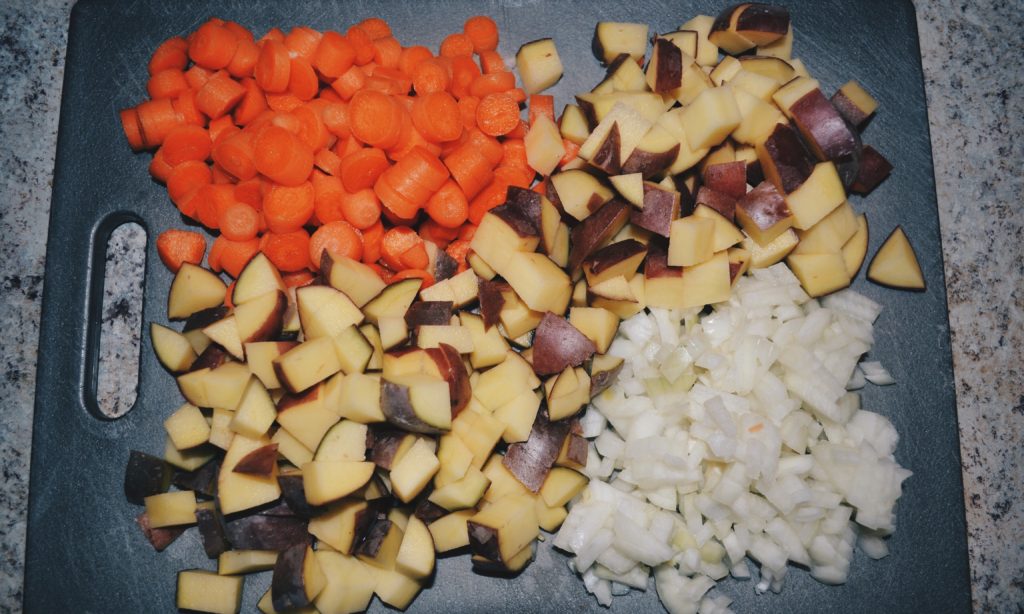 There are three main components of this soup: the meat, the vegetables, and the base. Once you've gathered all of them, you're ready to get started.
Meat – I use a small chuck roast for this soup. We're going to start with cooked meat, so you can either cook the roast in a crockpot or on the stove in a Dutch oven (or heavy saucepan). The trick is to make sure you cook it until it's very tender.  You should be able to shred it easily.
Vegetables – Here's what I use – potatoes (diced), carrots (diced), onion (diced), frozen peas, frozen corn, frozen green beans, 15 oz. can of diced tomatoes.  You can leave any of these out, and you could also add other vegetables like lima beans, cabbage, or celery.
Base – You'll need to save the cooking liquid from the roast and have a large can (46 oz) of tomato juice or V-8. Don't worry if everyone in your family hates tomato juice – the tomato base is much more pleasing and filling in this soup than broth would be.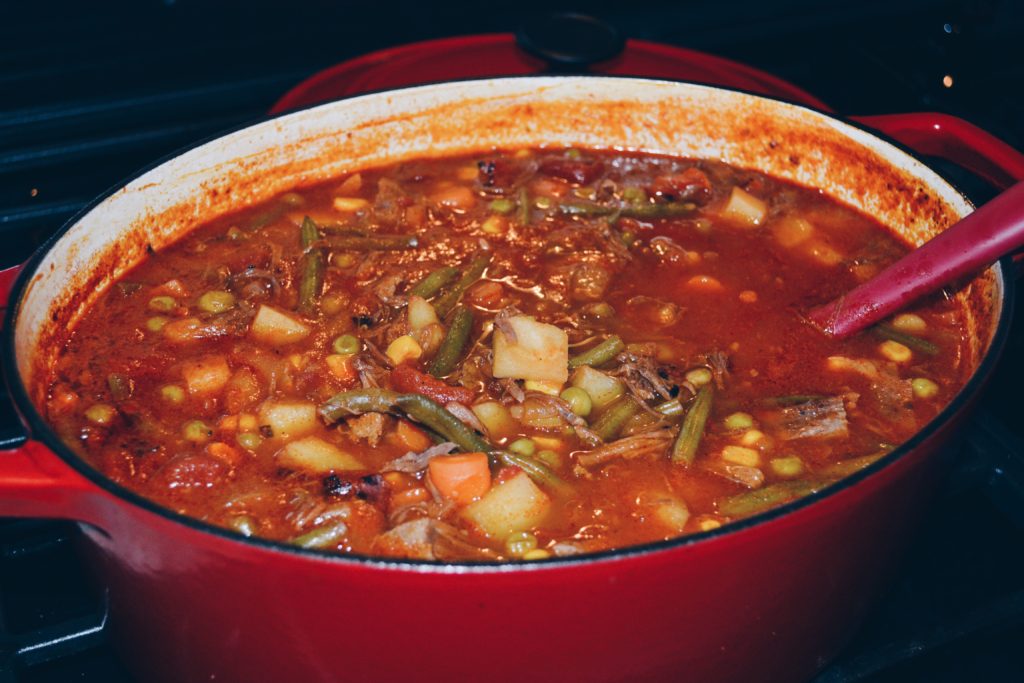 Now, let's combine all of these ingredients into an easy and filling meal.
1. Put the chuck roast into a Dutch oven with enough water to almost cover the meat.  Cook on low for 3-4 hours (or until tender), checking the water level often.
2. Remove the meat from the pot, discard any bones or fat, and shred the meat with a fork. Add the can of tomato juice or V-8 to the beef broth in the Dutch oven. Add any vegetables that need to cook and soften, like potatoes, carrots, and onion. You don't need to be precise with measurements, but I usually use 4-5 small potatoes, one large onion, and 3-4 carrots. Simmer the vegetables until softened.
3. Add the shredded beef, a handful each of peas, corn, and green beans to the pot along with the can of diced tomatoes. Season with salt and pepper and add one or two bay leaves. Let the soup simmer until you're ready to eat it. If the soup looks too thick, you can add water or beef broth.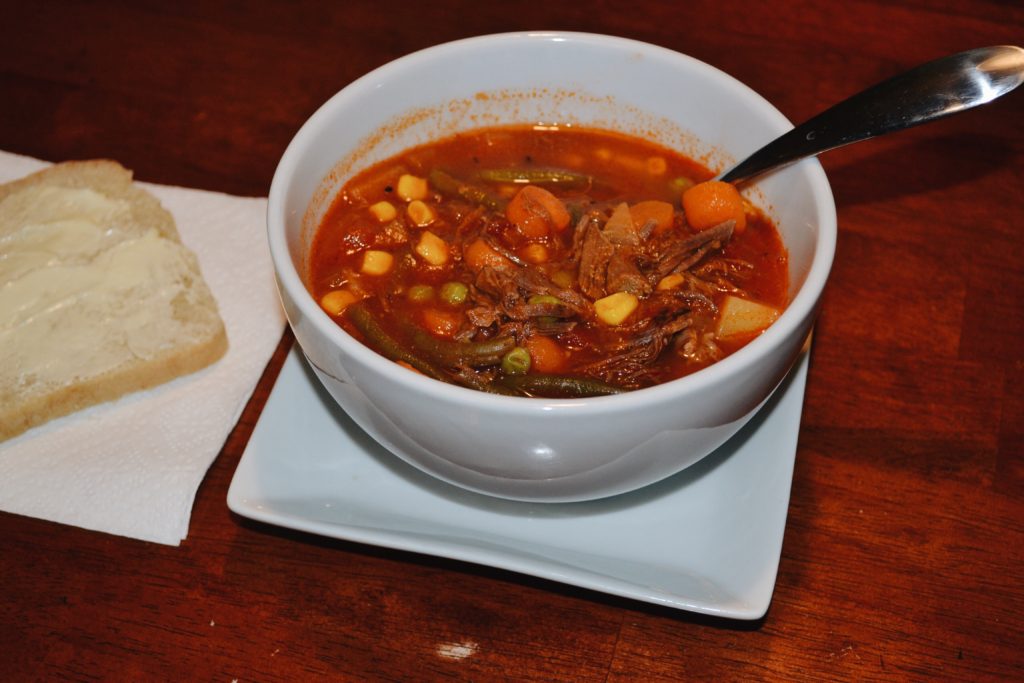 This soup is hearty enough to stand alone, but it's also great with a thick slice of homemade bread or a simple green salad.
Enjoy!
April Huard