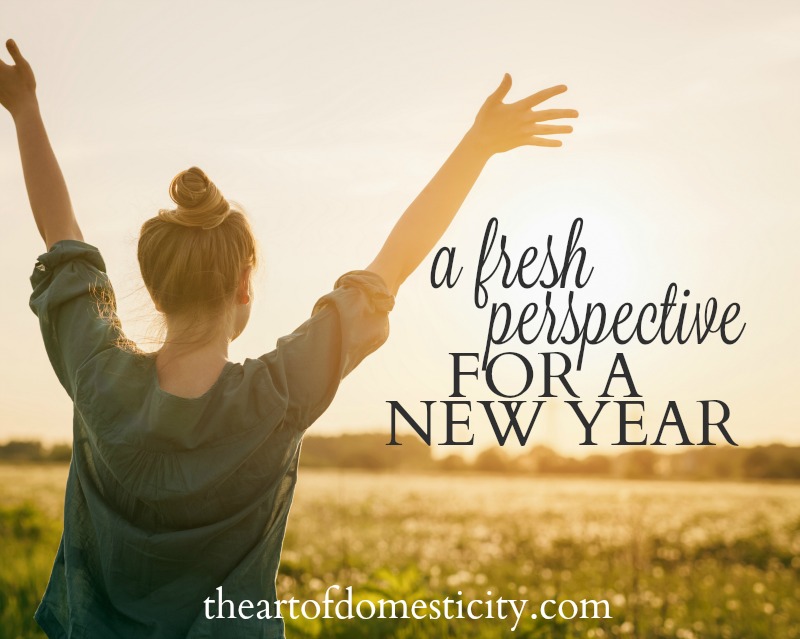 This is the time of year when many of us start to desire a fresh start in one or two (or sometimes ten) areas of our lives.  We have an innate sense that some sort of fundamental change will make our lives better – dropping 10 pounds, drinking more water, getting more sleep, cooking healthier food, redecorating the living room . . . the list could go on and on.
These kinds of changes are good and pleasing and sometimes even necessary. Personally, I have all kinds of plans to be healthier, more creative, and more productive this year. Deep down, though, I know that all of those other issues are just secondary if I haven't dealt with the thing that matters most – my perspective.
When I was in college (20 years ago!!), I used to get so stressed out and upset about papers and tests and projects. Yes, I was a very studious nerd, just in case you were wondering! My best friend and I used to remind each other that in 10 years, we wouldn't care about our grade on a specific paper or test. Guess what? We were exactly right. I can't even remember now what classes I took in college, much less what grade I received.
The same is true in every stage of life. It seemed like my babies would never sleep through the night, but now that they're teenagers, I can hardly remember the baby years. Potty training completely consumed the time when I had four toddlers, but I haven't thought about potty chairs in ages.
The Bible reminds us that our entire lives are like a mist that appears for just a little while and then vanishes (James 4:14). For that reason, Paul tells us to set our hearts and minds on things that are eternal – things that last forever (Col. 3:1-2).
As a wife and mother, I often set my mind on temporary things that I won't care about in 10 years instead of remembering that someday I will be in eternity with Christ. I won't be thinking about the burned dinner, the messy house, or the rusty van that I drove when I'm finally in the presence of God Almighty.
When I keep eternity in my heart and mind, I can better handle life's challenges, disappointments, and struggles.
An eternal perspective helps me say with Paul, "I have learned to be content whatever the circumstances" because I know that my real and lasting home is in heaven (Philippians 4:11).
An eternal perspective helps me obey James' command to "consider it pure joy . . . whenever you face trials of many kinds" because I know that my maturity is more important to God than my wealth or my weight or my kids' grades (James 1:2).
An eternal perspective helps me eventually say (and mean), "for me to live is Christ and to die is gain" because I know that everything I do on earth as a wife, mother, friend, and follower of Christ will culminate in a great reward that will never end.
If my perspective doesn't line up with what the Bible teaches, I can find myself running after happiness that is so fleeting and temporary. I've found that changing my perspective can not only improve my own state of mind, but help me be a better mother, wife, and friend. An eternal perspective helps me be more compassionate, less stressed, and more focused on God's purpose for my life.
Let's start 2017 with a fresh perspective on all of life's joys, trials, and blessings!
Blessings,
April Huard